We welcome all cycling enthusiasts willing to join a multicultural Brussels based peloton and to share their passion.
BBB welcomes both social and competitive riders
Covid-19 // BBB Official statement
We are officially allowed to ride together as from May, 8th. Please bear in mind that:
- registration is compulsory for all our activities ;
- riding in groups, you must respect our Covid-guidelines.
Due to strict insurance requirements, all participants must be fully-fledged members of the Brussels Big Brackets Cycling Club. Test-rides are allowed provided that you are personally properly insured.
You'll find in our Ride etiquette (.pdf) basic rules of group riding that everyone should be aware of.
RIDE WITH BRUSSELS BIG BRACKETS
We offer a schedule of cycling rides all year round. 
Check out our YEARLY SCHEDULE of the cycling events we attend and of the social events we organise! For up-to-date information, check out our STRAVA ACCOUNT (members only).
BBB "SUNDAY" RIDE, all year round
Join the BBB "iconic" ride!  We gather every Sunday in the Bois de la Cambre at 8.30am.
We form 4 different groups led by experienced road-captains. Choose which speed (from ~
22 to 30+ km/h) and which distance (from ~60 to 100km) suits you best!
More info here.
BBB "Early Birds" Ride (45km,

~

26km/h

) 

 •  

FRIDAY MORNING (6.30am)
Chill ride through the Pajottenland (from April to late September)
Starting point: Quai de Veeweyde 32, Anderlecht. More info here

.

BBB Gravel Rides, to be announced soon.
You can already download our suggested routes

.

BBB Indoor Sessions
Meetups on

Zwift

 proposed during winter-time.
BBB Racing accommodates all cyclists who aim at improving to competition level. We organise structured training rides and race-oriented training sessions. BBB Racing targets riders of all abilities interested in any kind of competition: ECW races, gran fondos, sportives, time trials, gravel, etc.
BBB RACING WEEKLY PROGRAM
For up-to-date information,
check out our STRAVA ACCOUNT
(members only) and our 
YEARLY SCHEDULE
(attended cycling events). 
We join BBB members for BBB Sunday, Gravel
or Early Birds 
Rides
as well.
TYPICAL BBB RACING SPRING/SUMMER WEEK
WEDNESDAY EVENING (occasional – 6.30pm) • Specific training sessions (

~60

km).
Organised periodically to concentrate on a specific aspect of cycling
THURSDAY EVENING (6.30pm) • BBB Racing race training (55-60km)
Race simulation type-training over a pre-defined segment (20-25km) on a safe course.
SATURDAY MORNING (9.00am) • BBB Racing long rides (90-150km+)
Rides published every week with an advertised average speed and a set course.
SUNDAY MORNING (8.30am) • BBB long rides
We take part in BBB Sunday Rides and regularly help leading some of the groups.
We additionally provide a comprehensive plan of indoor training sessions during winter.
Some of us take part in the HC – Tour de Wavre organized by our friends from Hors Catégorie every Tuesday evening (18.30 – from April to late September)
We generally gather at the "kiosk" in the Bois de la Cambre in Brussels.
Our routes are prepared and reviewed by experienced BBB members. You can download them for free and use them to discover the Brussels region by yourself. We also use them during our rides and training sessions.
Classic in black or white or fresh-new in pink and dark blue
(for our Racing Team),
our club jersey is iconic.
We proudly wear 
red and green, the colors of the city of Brussels as well.
Take a look in our webshop to check-out the availability of Brussels Big Brackets official apparel. 
You want to join our recreational section?
Members should both have a valid membership with BBB and get a license with any of the following federations, according to your preference: Fédération Francophone Belge de Cyclotourisme (FFBC – affiliation n°1006) and the Vlaamse Wielrijdersbond (VWB – n°400), as well Cycling Vlaanderen (n°12015014). We'll take care of your registration with FFBC and VWB. You'll have to register by yourself with Cycling Vlaanderen.
You want to join the BBB Racing section?
Subscribe to an Elite 3 licence by yourself directly on Cycling Vlaanderen website and select BBB as your club. Do not forget to complete your BBB membership afterwards!
Any question or suggestion regarding our Cycling Club? Feel free to contact us!
President
jpthivet@brusselsbigbrackets.eu

Secretary
info@brusselsbigbrackets.eu
Treasurer
fcristofoletto@brusselsbigbrackets.eu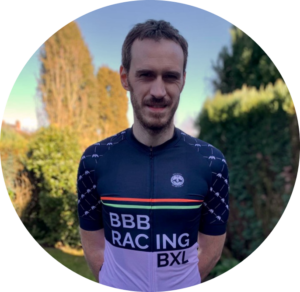 BBB Racing
racing@brusselsbigbrackets.eu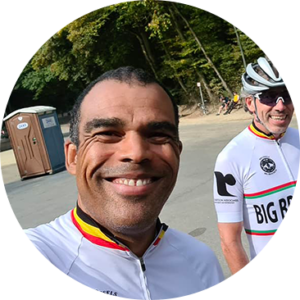 Sponsors and institutions
pcollowald@brusselsbigbrackets.eu