Join us for a 30 / 60 or even 100km ride from Neder-Over-Hembeek!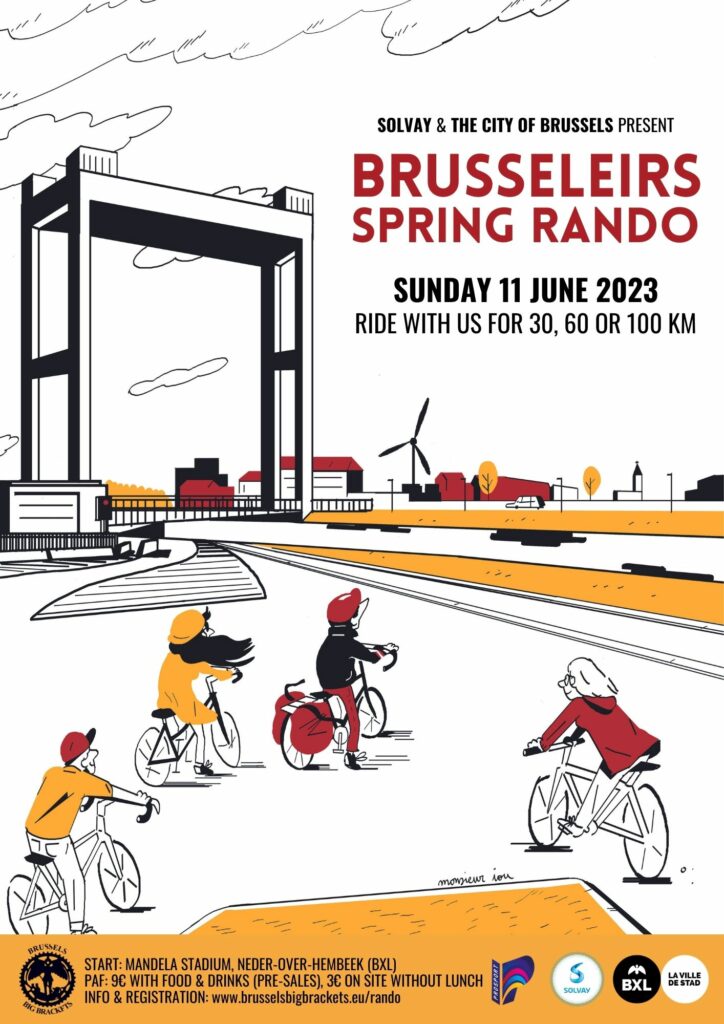 BRUSSELEIRS RANDO #2 IS OVER
SEE YOU NEXT YEAR!
AM: Three short scenic itineraries will take you to cycling-worthy places in and around Brussels. Distances will vary between 30, 60 and 100km. The trace will be available in gpx/tcx format, but also signposted physically. Checkpoints with beverages will exist on all 3 circuits.
PM: Riders can take a shower, eat & drink (meal and 1 drink included in the ticket). Families are welcome to join at this point and we foresee fun activities for children. This is the perfect opportunity to get to know each other without bracket noises and head wind.
Included
The stadium will offer catering, drinks, showers, toilets, and enough dry places to rest. We foresee a Red Cross presence (just in case) and a goodie on arrival for all finishers. Fun activities will be set up for riders' families in the afternoon. The stadium has a parking for cars, and a guarded bike shelter will be organised on that day.
(LEGACY SECTION) 2023 "BRUSSELEIRS RANDO" ROUTES
(LEGACY SECTION) 2022 "BRUSSELEIRS RANDO" ROUTES
Start and finish: Neder-over-Heembeek
(Mandela Stadium, Centre sportif du Petit Chemin Vert, Ransbeekstraat, 1120 Brussels)
Public transport: Trams 3 & 7 until "Heembeek" then 2,5km cycling to the North.
As a pedestrian, you can take bus 47 & 57 to "Chemin Vert'" in front of the stadium.