The BBB Racing Ventoux stage was a training camp of 'firsts'.
For many, it was their first-time up Mont Ventoux. For most, it was their first week with over 20 hours of cycling and close to 10km of positive elevation. Most importantly, it was the first training camp for the Brussels Big Brackets club! The first of many, no doubt.
Back in October last year, the BBB Racing section met to discuss plans for 2022 and the idea of a 6 day training camp emerged. Nico Collinet proposed to organise one in his very own Region near the Mont Ventoux. Helped with a team of volunteers (Jo, François, Cyrille, JP, Nico B.), the organization of the stage exceeded initial expectations with 27 BBB Members eventually signing up to take part.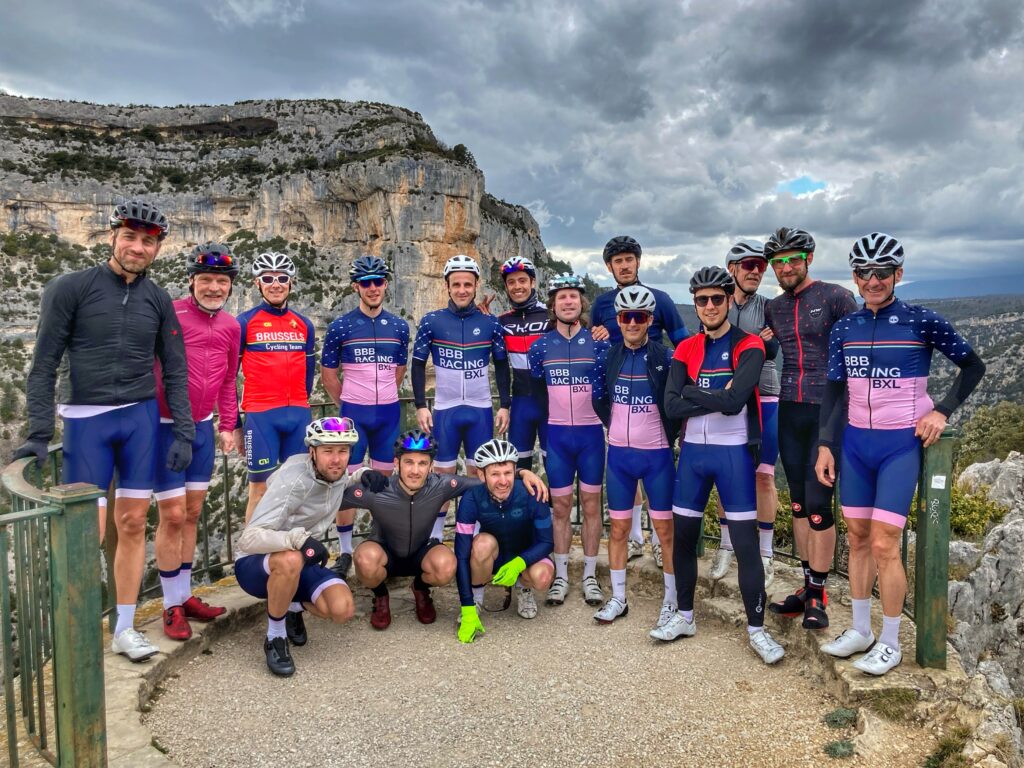 We arrived in Gargas on 2 April at the wonderful Moulin de Lavon auberge equipped with two training plans to account for the different riders' expectations and levels, a variety of carefully crafted routes to match, and a healthy dose of excitement and enthusiasm.
From the very first day, we were rewarded with jaw dropping scenery, long climbs on good tarmac (not something we are used to in Belgium!) and exhilarating descents. We soon settled into a rhythm: the rouleurs would provide the tempo at the front (Cyrille, Nico B, Sven and Jack), the usual suspects would attack on climbs (Virgile deserves a medal for doing all of them flat out!), and some would test their descending skills on the long descents. We always regrouped and cheered each other on too!
But what about particular highlights?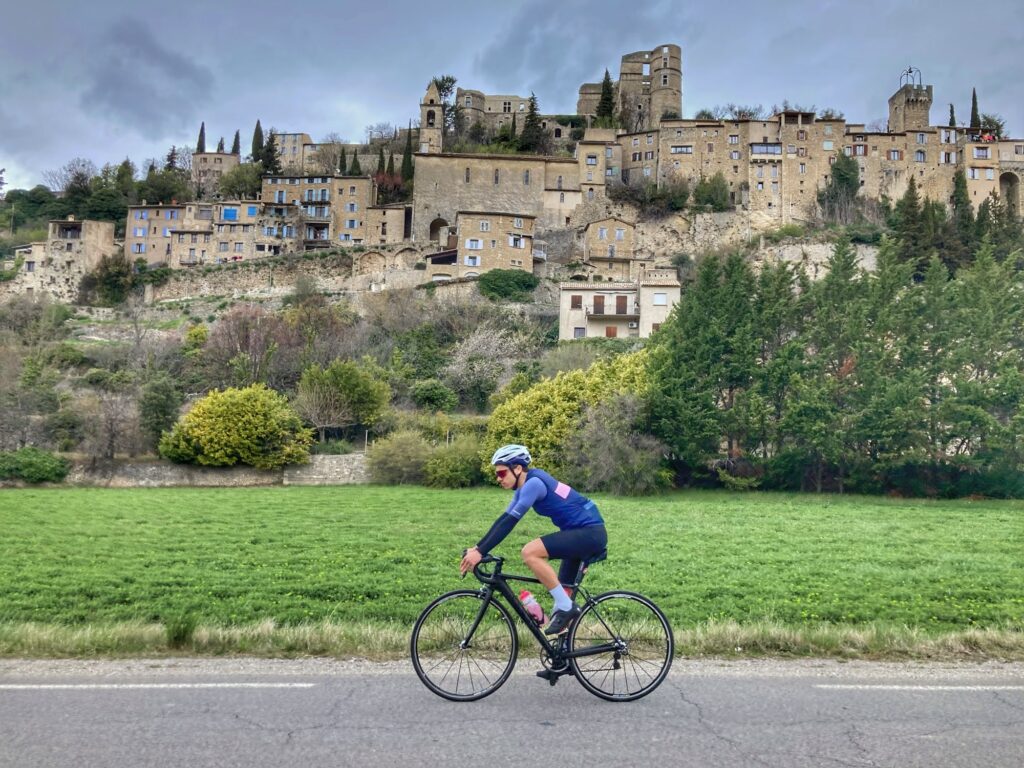 From the nearby village of Gordes, Fontaine de Vaucluse, the descent of the Col de l'homme mort, the Mont Ventoux itself to the short recovery ride we did on Wednesday, the roads we rode on were pure cycling paradise. Credit to Nico C and François VDP who really treated us with the best of the best! The gorges de la Nesque really stand out as a particular highlight. Cyrille, Nico C, Jack and Jo probably didn't see much of it as they raced all the way to the top!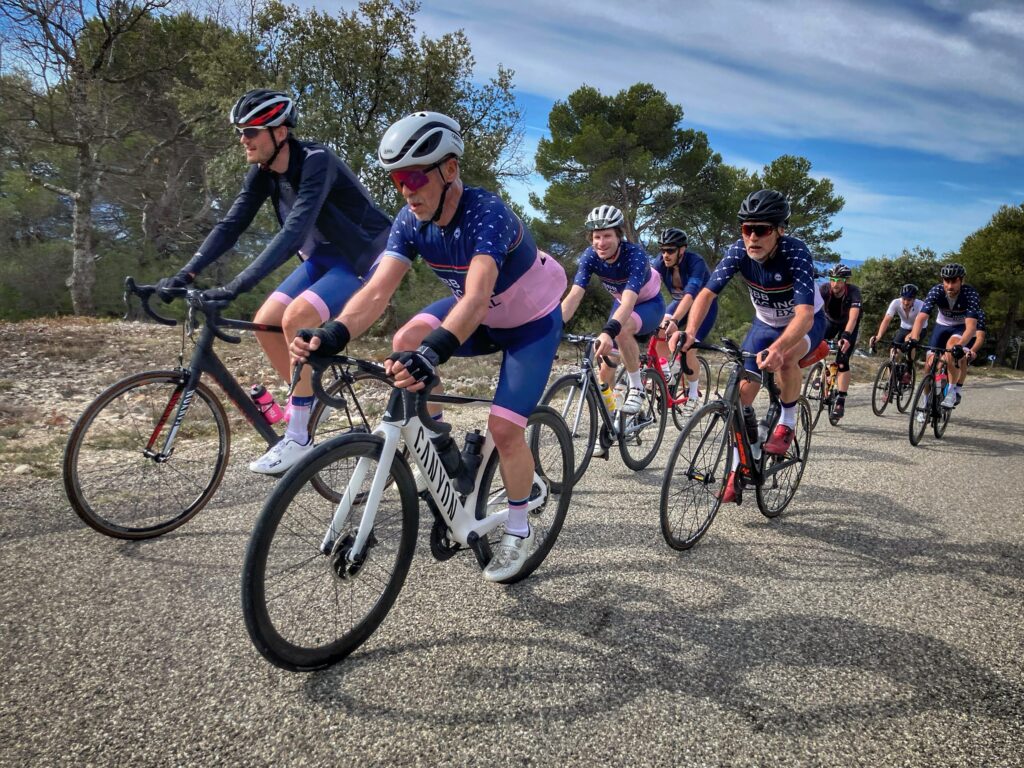 Pre and post-ride camaraderie
Pétanque, table tennis (Raph even organised a tournament), Strava segment analysis, nerdy discussion involving FTP and training tips were evening regulars. Some even dove into the ice-cold pool for a refreshing moment. Speaking of refreshments, most of us preferred the 'apéro' and the, well, let's call them 'alcoholic recovery beverages' on offer. Credit to Jean who did his country proud by ordering a Triple Karmeliet mid-ride on the last day of riding. Finally, the quality of humour regressed as the week progressed, reaching abysmal levels on the last day. Just ask Sven for more details.
Jean's bike cleaning and repair service
Our self-appointed team mechanic helped fix bike niggles (such as installing a chainring the correct way around…) and cleaned some of our bikes against 'écus sonnants et trébuchants'.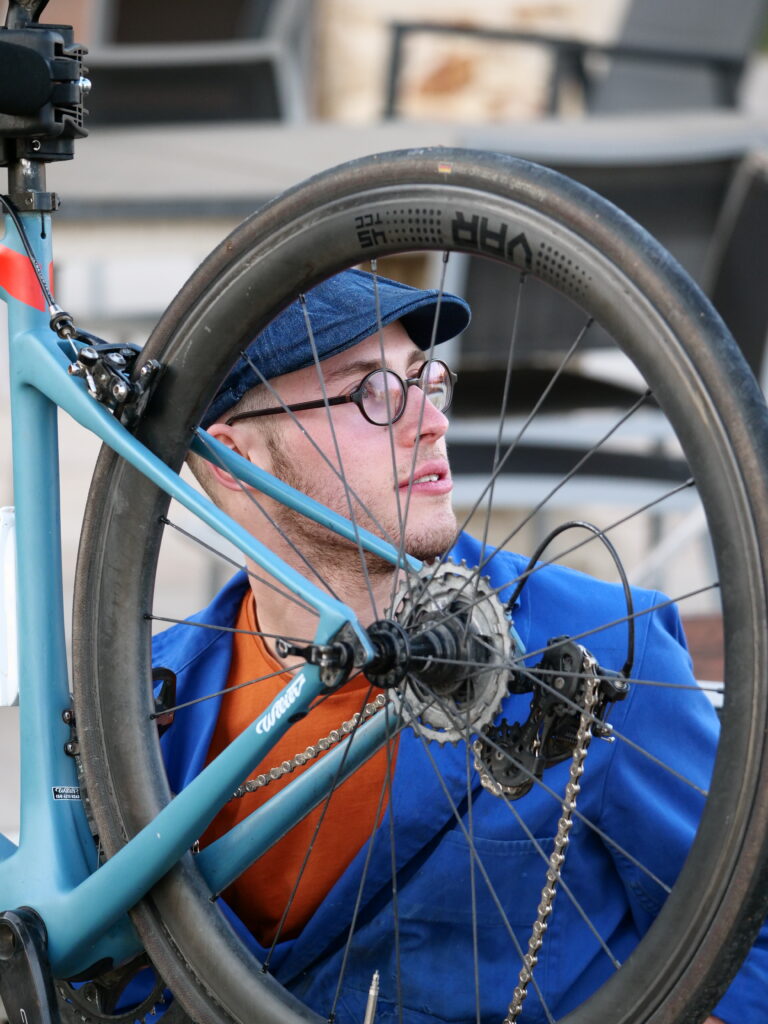 As it turns out, doing 4hr+ rides on multiple successive days requires A LOT of fuel, most of which we had to take with us in the form of gels and bars. This explains the rather ungainly looks of some riders who look more like glorified camels than slick pro riders like Wout van Aert. Just judge for yourself on the pictures. Post-rides recovery involved… crisps, mainly, and whatever we could get our hands on. Just like the doctor ordered. At 8pm 'précises', we got treated to a four-course meal by the local chef, including cheese of course.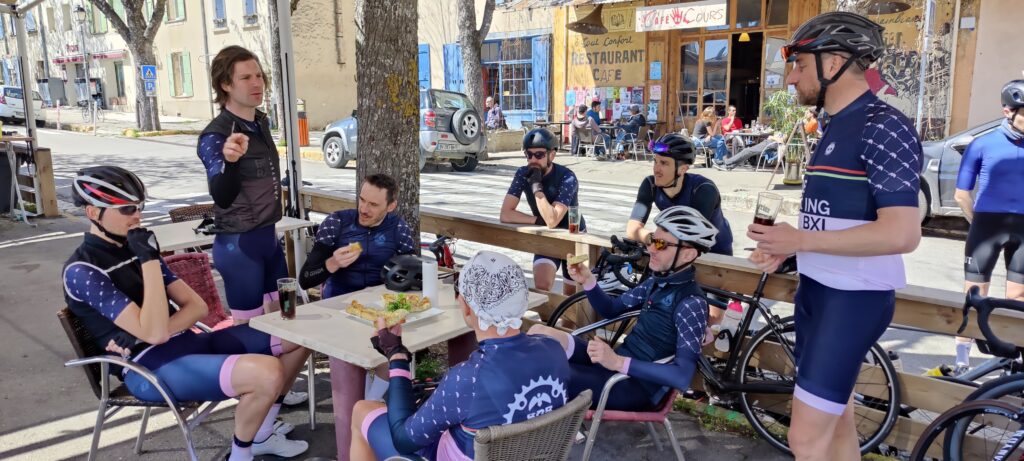 Learning to train and ride better
Riding in pairs and steadier at the front, cornering and descending better, finding and testing our limits on climbs, feeding and recovering… It is safe to say that we all took something positive from the camp. We're all now race-fit for the rest of the season!
Thanks to Nicolas Collinet for being a true maestro at organising an amazing week! So, where are we going next year?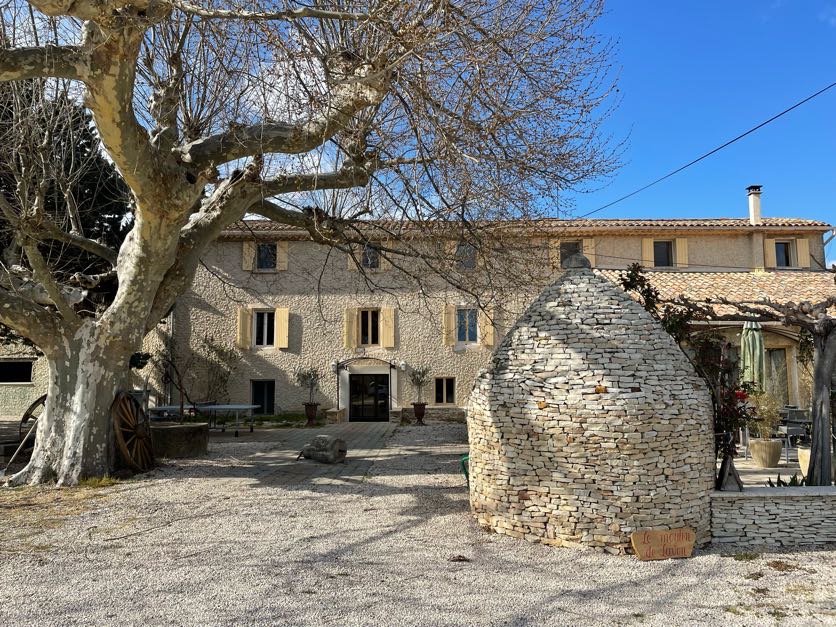 📸 Zac Garcia & Nico Brookes.