INFO ABOUT "BRUSSELS CRIT N.01"
Sunday 18 September
Official FCWB race

(cat. Open Reg)

with the presence of race official, official stewards and the use of a lap counter system (MyLap)
Open to everybody, women and men, skilled or not, licenced or not (in case you've got no UCI id., you can get a "one-day licence)
Prior 

registration

 compulsory 
Do not forget to pick-up your bib/race-number
You can pick up your number at the registration desk, located 
Avenue du Gros Tilleul
(1200 Brussels – Laeken) 
from 11.30 until 13.30.
No race number = no race!
Please take safety pins if you have some
Timetable
12:00 : track open for practice
13:25 : Men Road B
14:25 : Fixed Gear B
15:20 : Men Road A
17:05 : Women Road
18:10 : Fixed Gear A
19:00 : end of races
19:15 : all podiums
September 18th is car-free Sunday in Brussels: no car is allowed from 9.30 to 19:00. Fortunately, our track is really closed to the city limits.
HOW TO GET HERE ?
Bike
Strongly recommended
Public transport
Tram 7 & 3, Metro 6, Bus 83
Car
Take the A12, exit at "Strombeekbever" and follow "Brussels Expo – Parking C"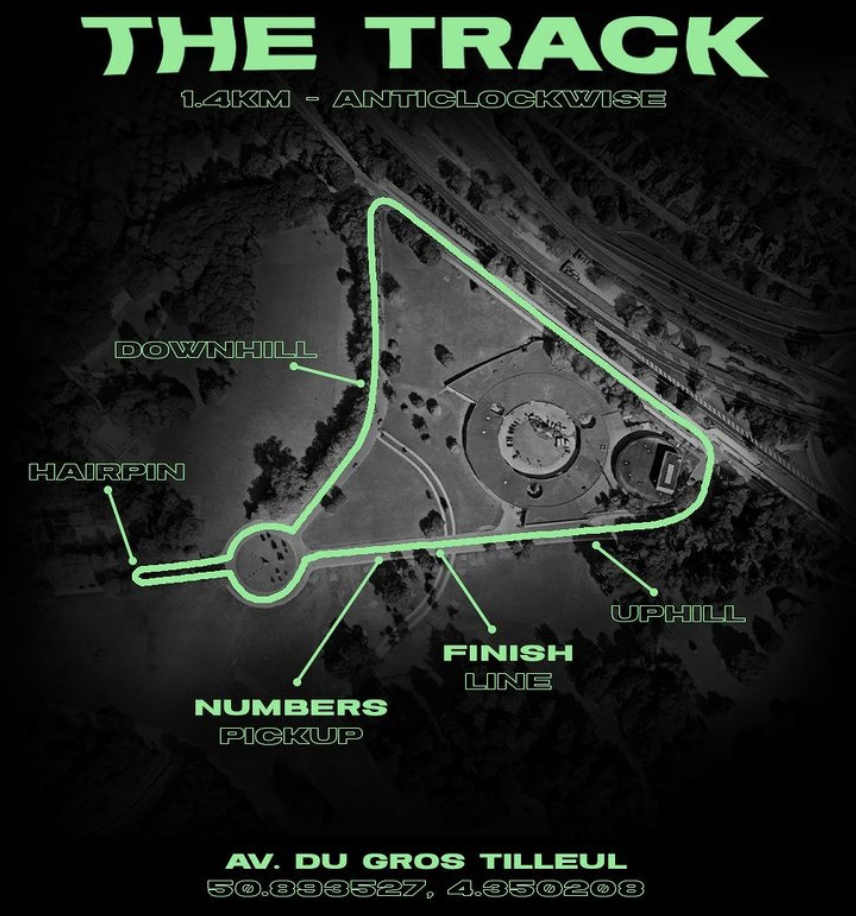 length: 1300M
9 turns (6 left, 3 right)
100% asphalt
wearing a helmet is mandatory
you'll race with a well-mainted bike
you'll be able to control your bike at the speed of your category and you'll control your speed in the corners
you will respect all the riders in your way of riding & talking
you won't put the others in danger during the race, you will hold your line, communicate and you won't push other riders
if the first rider is about to over-lap you, you must leave the race track (blue flag)
in case of a crash, you must reduce your speed for the safety of everyone (yellow flag)
you must stop the race if the race director decides so (red flag)
Rules for fixed gear races
only track bike with a fixed gear hub and no brakes
in the a-race, you must have a drop bar and clipless pedals
in the b race, you can have the bar of your choice and a way to fix your feet to both pedals (clipless pedals or straps)